2012.02.09 Thursday
I would play Contract Bridge two or three times a week.
I want to write interesting things about Contract Bridge.
.
End play NORTH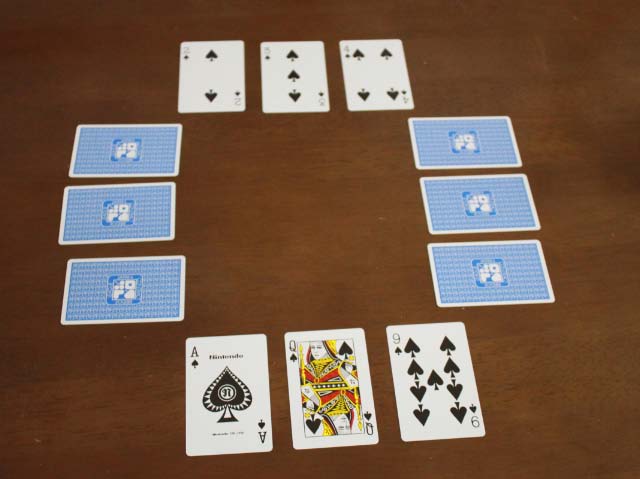 SOUTH.
If you play one card from NORTH in remaining three rounds, You will get at least 2 cards.
For example. You lead
2
from NORThH, then right side plays
8,
you play
9
, then left side plays
10
and gets one card.
But remaining higher cards are
KING
and
JACK
,and left side must lead one of then.
So SOUTH will get 2 cards.
If right side plays
JACK
, SOUTH plays
QUEEN
and left side gets
by
 KING
. Then remaing higher cards are
10
and
8
.
And left side must lead one of them. So SOUTH will get two cards.
If SOUTH must lead one of the three cards, south can often get only one card.
The Contract Bridge is very interesting is n't it?
Do you play Contract Bridge as follows.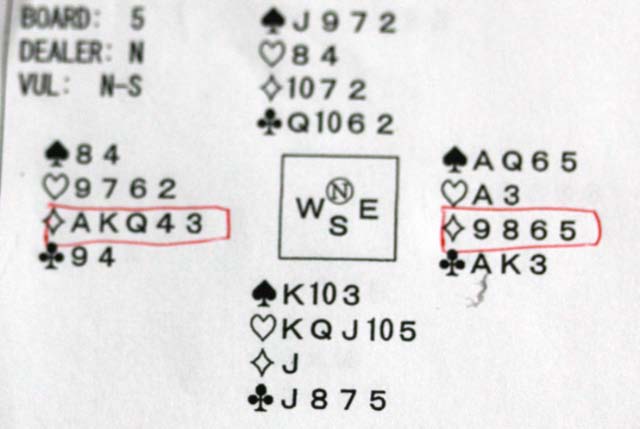 Text : by 清水康裕
The declarer is EAST. The Contract 3 NT. The opening lead is HEART KING by SOUTH.
This means EAST plays and need to get 9 cards.
It looks like East can get 9 cards easily.
Spade 1 card, Heart 1 card, Diamond 5 cards, Club 2 cards. But the Diamond forth card gets in East side. There is no way to enter the West side.
So you need to think how to get 5 cards by Diamond.
If you are not busy, please try to think how to get 5 cards by Diamond.
Sharing with